At, Whilton Locks we're Potty about Potter and love nothing more than our special Harry Potter themed events, perhaps you know someone that would love them too?
A must for all book and film fans with Whilton's very own Wizards-themed adventure.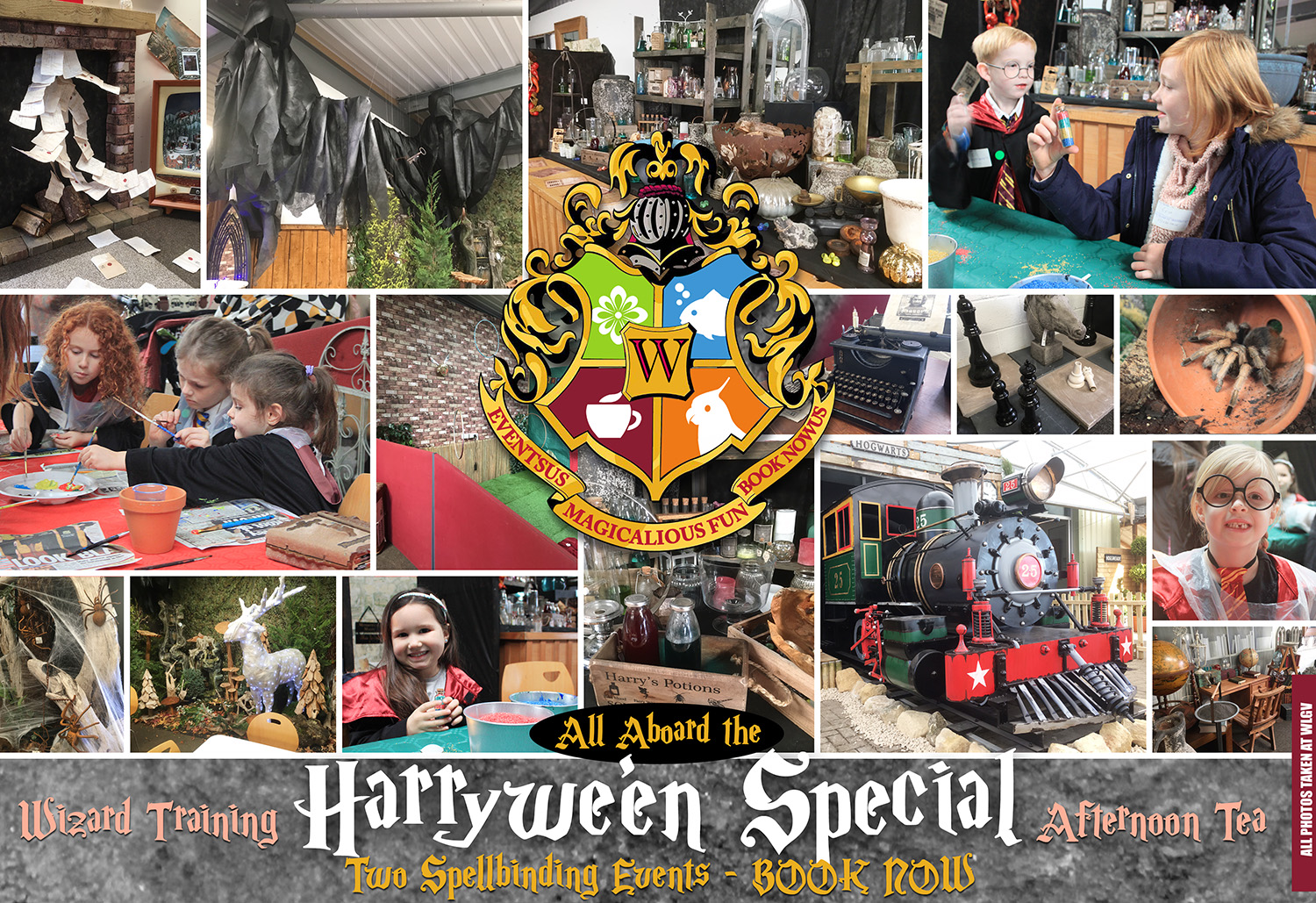 Catch the train and join in the fun with 'Wizard's at Whilton' within the specially decorated homage to Hogwarts.
There's always loads to do including floo powder making, map making, tie colouring, wand making and so much more… Also included are special spell classes and budding wizards can get the chance to try their luck at Whilton's very own Quidditch*.
They'll also be a sweet cart which will be filled with some wizardy wonders. There will be spot prizes for those that dress up as their favourite character. It's fun for all ages and is always a magical event.
Our Harry Potter Events can now be tailored to your own exclusive Birthday Party – ask our events team for more details.
Latest Harry Potter Events:

Here's what YOU said:
"We attended the Harry Potter crafternoon yesterday and thoroughly enjoyed ourselves. I wasn't quite sure what to expect, but the experience surpassed and exceeded all expectations!! The staff were lovely and stayed in character throughout. The activities were very fitting for any Potter fanatic – quidditch and the spell class being our favourites. The attention to detail throughout the room and during the afternoon was fantastic. Myself and my daughter had an amazing time and would highly recommend it.
Thank you for having us."
Cara Archer
"We've just spent the morning at the Harry Potter 'wizard week' event, and it was absolutely fantastic! Everything was perfect, they completely transported us into the world of Harry Potter, the attention to detail was impeccable and the staff were wonderful. My 6 year old was in his element, and was totally engrossed in every activity, no easy feat! A lot of it went over my 3 year olds head but the staff were brilliant with her, and spent extra time helping her and keeping her interested. Cant wait for next year!!"
Vicky Farenden
"Just been to the Harry Potter Wizarding event – wow!!! What an amazing morning, we couldn't have asked for better, and fantastic value for money!! So so much attention to detail in the decorations, and all the activities were so well organised and the children loved them! The staff were fantastic, a lovely bunch of ladies, and they even put on tea coffee and biscuits for the grown ups! We were so impressed with all of it, thank you so much!!! X"
Kate Barlow
"Today, Harry Potters Wizarding Workshop. What a brilliant event! Well done to all the hardworking wizards. So enjoyed by all of us. Thank you."
Keith Sargent
"Perfect day!! We went to the Harry Potter event with 4 children ranging in age from 6-11. All were kept entertained by the amazing staff, I actually thought the staff were paid entertainers but it turns out they work at the centre. They really went the extra mile with the decoration from quidditch to letters flying from the chimney! There were tea, coffee and biscuits for the parents and lots of seating (currently 38 weeks pregnant so very happy about seating). I will definitely be returning for more events in the future. Thank you all for such a lovely day."
Jemma Howard
"Thoroughly enjoyed the wizard event. Highly recommended. Superb staff and very professional."
Julia Wood
"I took my daughter to the Harry Potter event this morning. We had a wonderful time and she really enjoyed all the activities especially the spell casting class."
Debbie Louise
"Harry potter experience was just brilliant. so much effort put in by the girls and the room decor was fantastic!! Really impressed!!"
Stephanie Ansell
"Today we visited WLGV for the Harry Potter Wizard afternoon and all I can say is omg we had a fantastic time. the staff was amazing they made the activities so much fun. The decor and details they went into to make it look and feel like hogwarts was beyond amazing. I have one very happy Harry Potter fan. Thank you all."
Mandy Gosling
"I took my kids to the wizard week. It was brilliant. The girls who took the class were amazing nothing was to much trouble. They were very chatty and happy. Thank you so much my kids and I had a fab time."
Louise Timms
"They had such fun 😁😁xx."
Sacha Hinton
*Activities subject to availability.